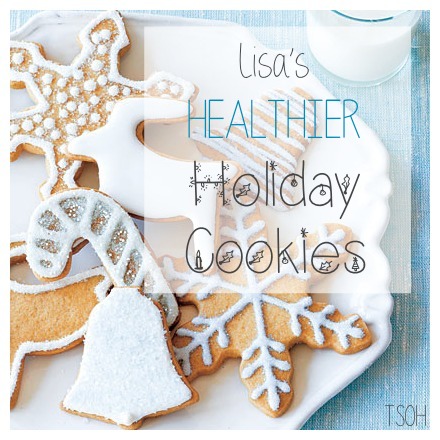 These cookies are perfect for the holidays: quick to make (for you), fun to decorate (for kids), and healthy. Wait — what?! Healthy holiday cookies?!
Oooooh yea. Only 70 calories per large cookie. THAT is worth celebrating.
Low-Calorie Holiday Sugar Cookies
Cookies:
just under 1 1/2 cups all-purpose flour (measure 1 1/4 and then add around 3 tablespoons!)
1/2 teaspoon baking soda
1/4 teaspoon salt
1/3 cup granulated sugar
1/4 cup packed light brown sugar
6 tablespoons unsalted butter, cut into small pieces
1 large egg white
1 teaspoon vanilla extract
cookie cutters of your choice!
Icing:
3 1/4 cups powdered sugar
1/4 cup powdered egg whites (I use Just Whites)
1/3 cup water
food coloring as desired
Directions:
Prep time: 30 minutes for the cookies, 10 minutes for the icing
Serving size: 1 3-inch cookie, makes 24 servings 
Calories: 70 cal; Sugar: 5 g; Carbs: 10 g ← totally not joking!! 
Cookies: 
1. Preheat the oven to 350 degrees.
2. Whisk the flour, baking soda, and salt in a small bowl.
3. In a food processor or Magic Bullet, add the sugar. Then, add the butter in pieces. Whisk until creamy. Add the egg and vanilla extract and whisk again, until incorporated.
4. Add the dry mixture to the food processor or bullet, and pulse until blended.
5. Wrap the dough in plastic wrap and place in the refrigerator.
6. After around 10-15 minutes, take out the dough and place it between 2 sheets of plastic wrap.
7. Roll out the dough until it is around 1/8 to 1/4 inch thick. Then, use the cookie cutters to cut it into the desired shapes.
8. Prepare cookie sheets with cooking spray and place the cookies with around 2 inches of space in between each.
9. Bake for 10 minutes, or until edges are lightly browned.
10. Cool and add icing.
Icing (3-step rec!): 
1. Beat the powdered sugar and powdered egg whites in a large bowl with a mixer on low speed.
2. Add the water and increase speed to high. Beat until the icing is thick, around 8 minutes.
3. Add food coloring if desired.
This recipe was SO easy and fun to do, which makes it great for family time or a kid's activity. You can dress them up or down (or get super fancy and add gumdrops and your name…) Plus, it's healthier than other holiday cookies, which is a major bonus!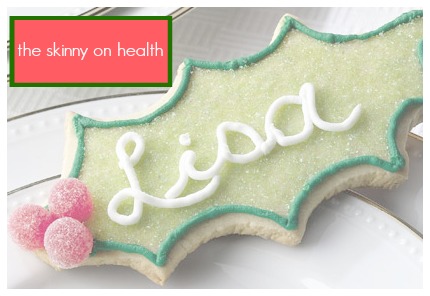 What holiday cookies are you making this Christmas?
Happy Holidays!
xx


Wondering what to get me for Christmas? Like me on Facebook!