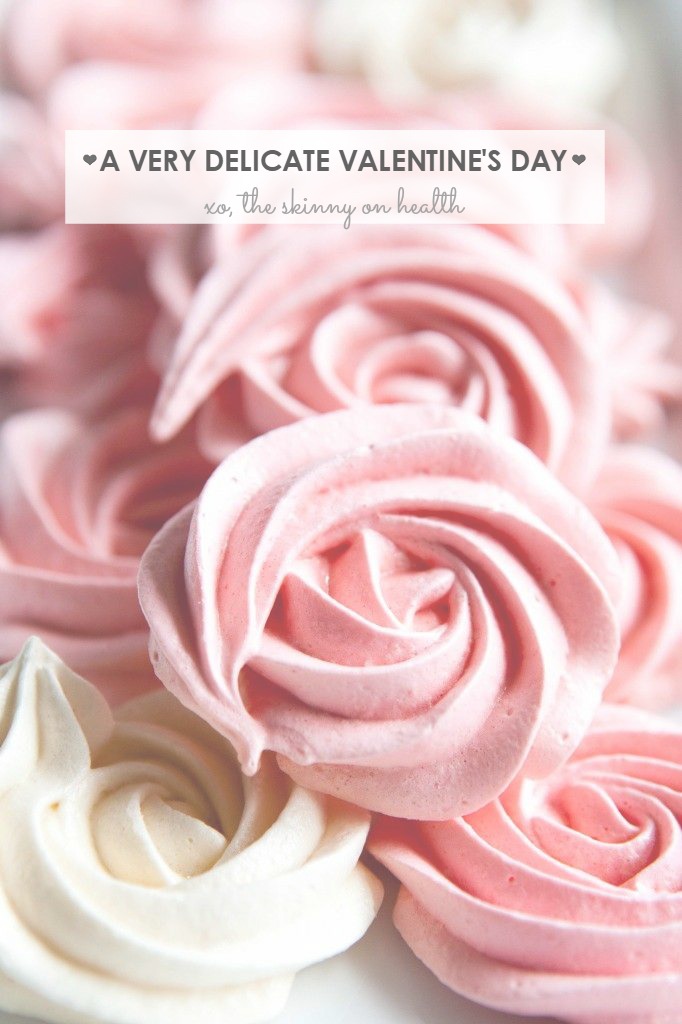 So last year I shared this crazy list of my favorite Valentine's Day dessert recipes. I still use all these awesome recipes, but this year I'm deciding to keep it simple (last year, I also wrote about the importance of loving yourself!). If you love the hearts, reds, pinks, super adorable themed desserts, stick with those! However, if you wanna keep it clean and classy this year, I have the perfect recipe for you — these gorgeous pale pink rose meringues.
Sooo delicious and so, so beautiful.
Ingredients:
4 egg whites
3/4 cup sugar
1 tablespoon meringue powder
1 teaspoon pure vanilla extract (or maybe some rose flavoring if you have any!)
A pinch of salt
Pink food coloring
Piping bag (I love using this one
, and Amazon can get it to you ASAP)
Parchment paper
Directions:
Preheat oven to 175 degrees.
Whisk egg whites, pinch of salt, sugar and meringue powder in a glass or stainless steel bowl.
Set the bowl over a pan with simmering water whisking constantly, until sugar dissolves and mixture is hot to the touch, around 5 minutes.
Transfer the bowl to an electric mixer. Using wire attachment, beat the mixture gradually from low to high, until stiff peaks are formed (this should take around 8 minutes).
Add the vanilla extract and mix for 30 seconds to incorporate.
Add the tiniest touch of pink food color to make a pale pink (be careful, a little goes a long way!) and beat until color is consistent. I reccommed dividing the batch to make a few white, few pale pink, and a few a darker shade of pink!
Cut up small parchment squares about 2in x 2in.
Ribbon your roses! I like to mix techniques for varied roses, these are my three favorites: 1 //2 //3. The carnation one is also really pretty and sort of looks like a rose! Side note: this site also has a quick and dirty version of this recipe!
Bake for around 2-3 hours, depending on the size of your roses. Just check to see when they are dried through.
Once finished baking, you can either eat them plain, dip them in chocolate, or sprinkle them with a shimmery dust. You can even place them on a cake or cupcake, but that's a lot more work! I tried all the options, they were all equally delicious.
Little pink rose meringues on dark chocolate and red velvet cupcakes make great v-day gifts for your best girlfriends!