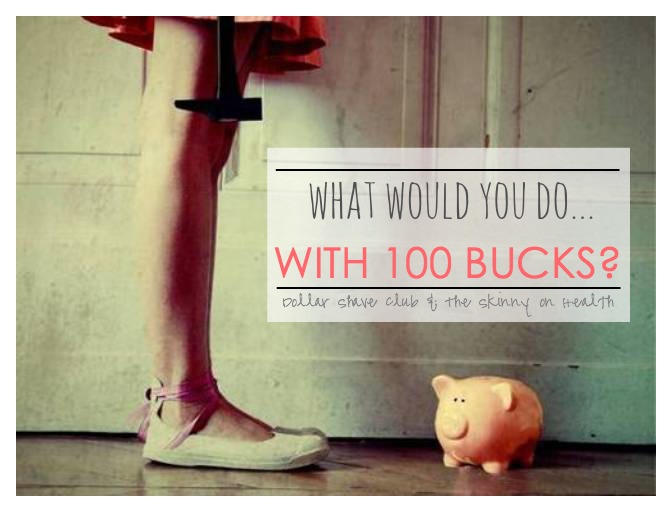 So I am very frugal. I squeeze everything I can get out of the money I make. However, I also find it important to spend money correctly. So, there are some things I never skimp on — they're worth the extra dough. For instance, I never buy discount/cheap produce and meat. (I learned my lesson from that one!) I will spend $10 on work clothes, but make sure I have a couple nice pairs of shoes or a nice purse in the mix. It's about where you spend your money that counts, and to make sure you only spend it in the right places is important.
I recently realized how much money I was spending on stupid stuff and made some big changes. Seriously, I was spending like $50-100 a month on shampoo/razors/soap/etc. SO crazy! I switched over to using new & convenient companies (like Dollar Shave Club!) that make my life SO much easier and my wallet much happier.
Now that I've made these shopping changes, I have some extra dough in my account. $100, to be exact. I'm trying to think of what to do other than save this little bit of freedom in my wallet, and made a list for you guys to help me out!
PS - If you haven't tried out Dollar Shave Club, you're way behind the times. They and their razors friggin' saved me and my wallet! So much smooth legs, so little dough.
Where I might spend my $100….
A new pair of good running shoes! Mine have quite a few miles on them, want to make sure I get quality ones to keep up with me.
A nice watch. (smelloooo gold Michael Kors?)
A Red peacoat for Fall/Winter (Channeling my inner Rory Gilmore for the upcoming Netflix release!)
1/4th of a Vitamix. (a girl can dream! Think of all the homemade hummus and pesto I could make!)
A Tory Burch FitBit (ahhh two of my favorite things mushed together!)
How would you guys spend $100 extra bucks? Gimmie ideas!!!
xo



Facebook | Twitter | Instagram | Bloglovin