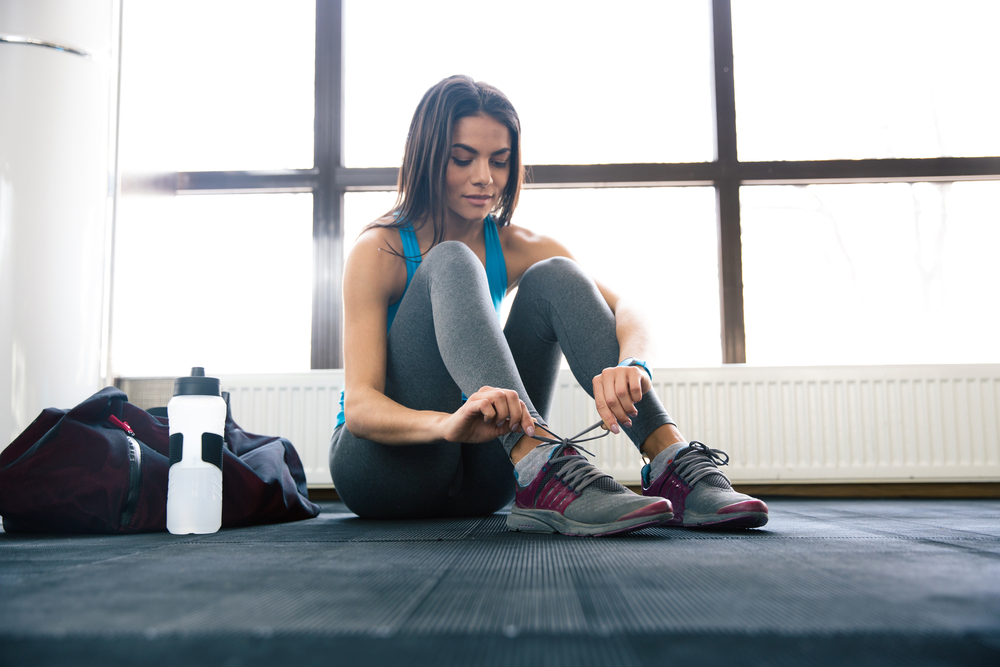 Hey all! I'm letting Amy Leach from Focus Training take over TSOH for the day to address going to the gym…for the first time ever. I definitely remember the first few times I went to the gym…and wandered around feeling like a self-conscious chicken with my head on backwards (seriously, pretty sure I was like bumping into things and tripping over my own two feet). Plus, even as a seasoned gym-goer, I still forget some of these basics that would make my experience at the gym that much better.
_______________________
Hitting the gym for the first time can be a daunting experience. It's a very similar feeling to the one you get when you're the new kid in school. Everyone else seems to know each other and know where to go, but you feel slightly out of place.
Well, the gym needn't be that way and we're here to help.
In order to combat your first day at the gym, we have devised this guide to make sure you are fully prepared and feel right at home!
Things to bring with you
Having everything you need with you is vital in order to make your first day run smoothly. There is nothing worse than turning up to the gym without the appropriate tools, as this will only make you more nervous and start you off on the wrong foot.
Here are some things you will most definitely need to bring with you, so get your checklist at the ready:
Footwear: Good quality training shoes are crucial to your safety when you are working out. They don't necessarily have to be expensive shoes, but they must have sufficient padding and support underneath and be able to lace up. Aches and pains can occur when you are exercising so keep your feet protected and you could prevent serious injuries.
Water bottle: All gyms will have water fountains and cups but it's best to bring your own water bottle. Not only is it important to drink regularly when you're working out to avoid dehydration, but bringing your own bottle means you won't need to keep walking over to the fountain to top up - or even stopping mid-exercise to get a drink.
iPod: Some people prefer to just listen to the music that's on in the gym room and that's OK, but by bringing your own music device, you can listen to the songs of your choice at your own pace. Even if you feel you might not need it, it's always best to bring it with you on your first day so you have the option. A certain track could really get you pumped for a workout.
Towel: Bring a small towel with you on your first day, as this will be a good way to keep the equipment you use clean. No one will want to sit in your sweat, and equally you don't want to sit in someone else's, so use your towel to wipe down each piece of equipment before and after usage.
Toiletries: If you have joined a gym that has shower facilities, it's a good idea to bring your own toiletries. Chances are your gym will be able to provide you with certain things like shower gel, but if you have specific products you like using, remember to pack them. This brings us nicely onto our next item.
Gym bag: Invest in a good quality gym bag to carry all of your belongings in. Ideally, a bag with a variety of compartments is a good option because then you'll know where everything is instead of rummaging around your bag to find your hairbrush or earphones. Don't give yourself anymore added stress on your first day!
Flipflops: Flipflops may not be ideal for exercising in but it's good to have them for when you are using the shower. It will prevent you from picking up any infections and stop you from slipping on the wet surfaces of the shower area.
Gym clothes/sports bra: Comfortable lightweight clothing is important when working out. As you burn calories your body temperature increases and clothing that will allow some heat to escape is a good way to go. It's also good for perspiring because the fabric will retain sweat and prevent body odor from occurring. For females, a good sports bra is key. It's worth going to get measured beforehand so you buy a size that fits you comfortably and will help to protect you and prevent aches and pains when working out.
Membership card/money: In order to always remember your membership card, secure it in a safe place in your purse or wallet along with any money you think you may need. Some gyms require a pound coin for locker usage so make sure you always have a spare one.
Get to know your gym
It's a good idea to have a wander around the gym and get used to your surroundings before you begin your workout. Becoming familiar with the different facilities will help you feel more organised and less like a lost lamb.
Some gyms even host induction sessions that you can take part in upon your arrival. This is where a member of staff shows you around and introduces you to everything to help you feel more prepared. If this induction is optional, go for it! You'll really appreciate it.
Chances are, the gym you have joined will have a timetable or leaflet telling you about class times, etc. It's worth picking one up when you get there so you see what's on offer and if there's anything on there that might interest you.
There are always members of staff around, so if you are struggling with a piece of equipment or you're unsure how to use a certain instrument, make sure you ask for help. You won't be the first person to ask and you certainly won't be the last. The fitness instructor will be able to show you how to operate the equipment safely and you can begin your workout without any complications or confusion.
A lot of people use the gym for general fitness but if you have specific areas you want to target, you could even ask the instructor what machine would be the most suitable to combat the areas you want to improve on.
Things to avoid on your first day
Although there are several things you should do on your first day at the gym, there are also a few things you shouldn't do. Read this list to find out what you need to avoid in order to have a successful first session.
Avoid working out without a snack. Eat something around an hour or two before you exercise. There is nothing more off-putting than trying to work out when you have a rumbling stomach. You are likely to feel faint and you'll be lacking in energy - not a good start for your first session.
Avoid working out without a warm-up. Warming up is especially important for beginners because you are just establishing your workout routine. Start by doing some light stretching in the major muscle groups in order to get your body prepared for your workout.
Avoid doing too much. Although this is your first session and you're likely to want to get stuck right in, overdoing it could cause injuries. Instead of hammering the treadmill for an hour, try using a few different machines for 20 minutes each so you get a feel for what they are like. No one's expecting you to be an athlete on your first day.
Avoid skipping water intervals. It's easy to get sidetracked when working out. Especially if you feel like you're doing well and want to carry on. Drink as much as possible and keep yourself hydrated. You will have much more energy and last a lot longer if you keep on top of your water intake.
If this post has got you interested in certain tips that need to be followed in order to maximize your health and fitness, and you think this profession might be a good direction for you to go in, visit Focus Training. They have a wide selection of courses you can take part in, depending on what you want to specialize in, that could see you becoming a professional personal training instructor and more. So get in touch today!
xo



Facebook | Twitter | Instagram | Bloglovin