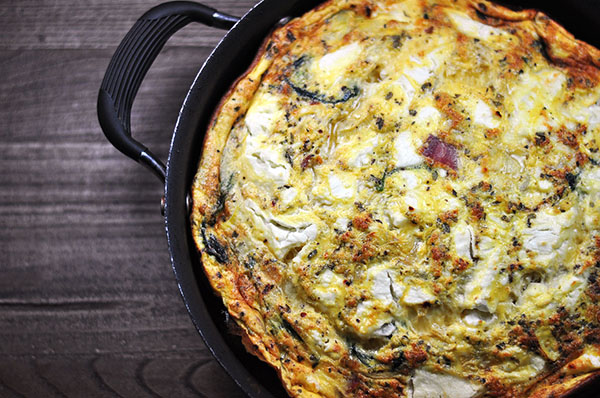 I'm alllllll about brunch. Seriously, who doesn't love a good (boozy) brunch? Now that it's fall in Seattle, brunches are moving from rooftops and patios to cozy apartments with fireplaces, cocoa, and hot toddies. This recipe is perfect for a potluck brunch or hosting a brunch at your place! I actually also love to cook it for myself, since it's super easy to divide up for lunch leftovers at work the next week! So so sooo delicious and easy to make!
Spinach and Turkey Bacon Frittata
(serves 6)
1 tablespoon olive or coconut oil
1 yellow onion (small, thinly sliced, 1 cup)
2 cups frozen spinach (from two 10-ounce packages, thawed and squeezed dry)
Himalayan pink salt
Ground pepper
8 large eggs (lightly beaten)
1/2 cup cooked turkey bacon (crumbled, 5 slices)
Directions:
1. Preheat oven to 425 degrees. In a 10-inch ovenproof nonstick skillet, heat oil over medium-high.
2. Add onion and spinach, season with salt and pepper, and cook until onion is translucent, about 5 minutes.
3. Add eggs and bacon, season with salt and pepper, and stir to combine.
4. Cook, undisturbed, until edges are set, about 2 minutes.
5. Transfer skillet to oven and bake until top of frittata is just set, 10 to 13 minutes.
6. Invert or slide frittata onto a plate and cut into 6 wedges. Serve warm or at room temperature.
xo



Facebook | Twitter | Instagram | Bloglovin