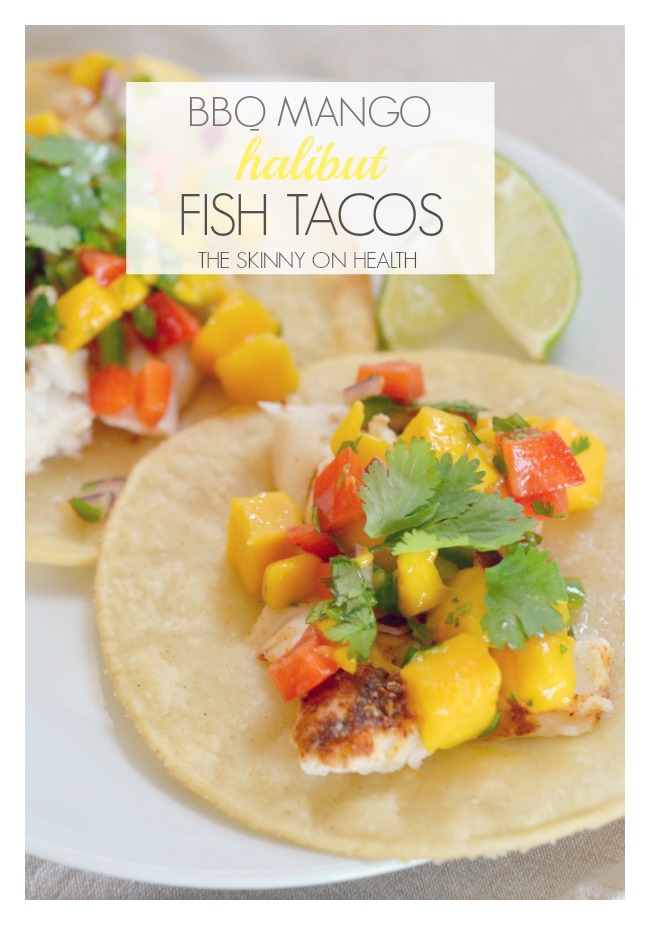 This recipe is perrrrfect for summer! It was originally a BBQ Mango Tilapia dinner recipe in one of my custom cookbooks, but I thought I'd put a creative spin on it for this perfect weather.

TSOH's BBQ Mango Halibut Fish Tacos
(serves 3)
Ingredients:
2 4.5-oz. filets raw halibut (or fish of your choosing)
1/4 cup diced tomatoes
1/4 cup diced mango
1/4 cup canned tomato sauce
2 tablespoons mango nectar
2 teaspoons apple cider vinegar
1 teaspoon honey
1/2 teaspoon garlic powder
Cilantro (as much as you prefer)
6-8 corn tortillas (or flour!)
Directions:
1. In a medium bowl, combine tomato sauce, mango nectar, ketchup, vinegar, honey, and garlic powder. Mix well.
2. Place fish and sauce in a container, and toss to coat. Cover and let marinate in the fridge for 30 minutes.
3.Preheat oven to 375 degrees. (OR if you're a master griller like The Little Honey Bee, I highly recommend grilling it instead!)
4. Spray a medium oven-safe pan with nonstick spray. (unless grilling…)
5. Transfer sauce and fish to the pan. Cook for 10 to 15 minutes, until fish is cooked through. (orrrrr grill it!)
6. Move fish to a cutting board, and tear or cut into desired sized pieces.
7. Toss the fish with the diced tomatoes and mango, and garnish over tortillas with cilantro and anything else you like!
(Served best with margaritas, of course)
I made my homemade guacamole with these, and topped it with some leftover mango — was sooo delicious! Do you guys want my guac recipe? Do any of you have an amazing recipe for it?
xo



Facebook | Twitter | Instagram | Bloglovin