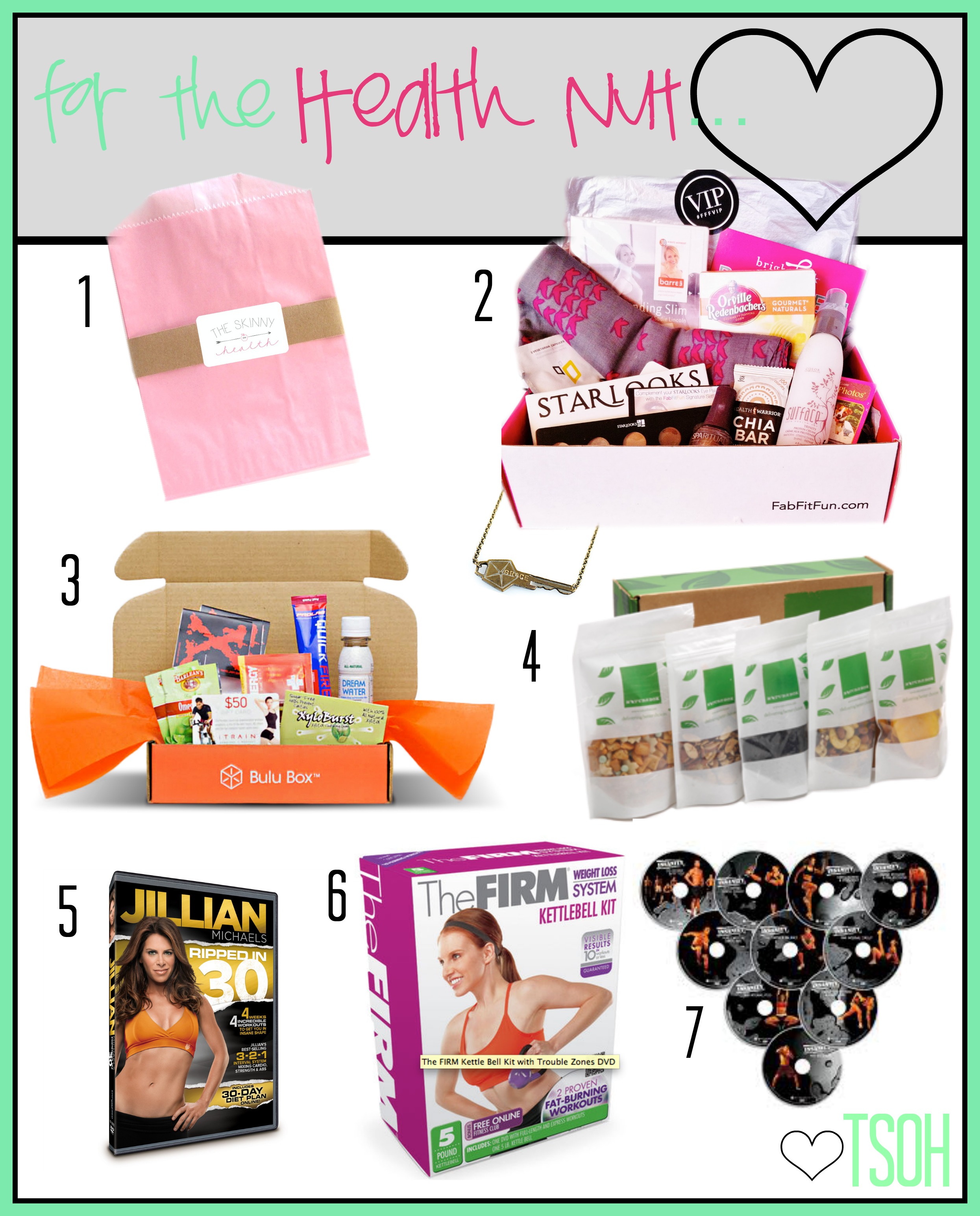 Woo! The last of my 3 holiday gift guides: the fashionista, the yogi, and now, the health nut!
Health fanatics typically get the same gifts every year…gym shorts, running shoes, a cool water bottle…yada yada…but not this year. This year I'm getting creative with my health junkies, with gift boxes and packages! Gift boxes and packages are such great gifts, and an awesome way to stand out and let your gift keep on giving to their health all year.
I'm sorry they're not organized by price, but they all are such varying prices it didn't make sense to do it that way! For instance, the Bulu Boxes and TSOH packages can be as cheap as $5, but can also be nicer and more pricey.
THE HEALTH NUT HOLIDAY GIFT GUIDE:
1. One of The Skinny on Health's gift packages (DUH!) — you can pick the perfect one in your price range for your friends and family's diet and fitness goals!*
2. A FabFitFun VIP box subscription — my sister just got me one for Hanukkah! SUCH a creative gift and a total steal!! Plus, I've got a secret sneak peek for you all! The winter FabFitFun box includes this GORGEOUS Never Ending Giving Keys necklace — I cannot WAIT to get mine in the mail!!
3. A Bulu Box Subscription — I mean, you all know I love Bulu. This gift is great because you can control the cost of the gift by adjusting the # of boxes you get them! Or, you can get them a big holiday gift box that fits their needs (they offer a busy mom one, a beauty buff one, and more!) The best part? A 50% off coupon code: BULUGAN412

4. A NatureBox — a great gift for seriously healthy eaters! NatureBoxes are similar to Bulu, but they focus on sharing natural, healthy foods rather than a weight loss or fitness goal. They are a $20/box with free shipping, but are larger than Bulu and stuffed with a lot more foods than other boxes!
5. If you're not feeling the boxes, a Jillian Michaels video is an amaze gift for the health/fitness enthusiast, especially a busy one or a new mom! My favorites of hers are the frontside/backside combo and the Ripped in 30!
6. The Firm Kettle Bell Kit — I have actually never tried this workout but just ordered it because LOOK AT THIS STEAL! 2 DVDs and a kettlebell for only $16?!
7. Insanity workout videos - the perfect gift for a friend that wants to get serious about weight loss, let Sean T whip their ass into shape!
*TSOH gift packages are currently sold out! Have no fear, a new batch is currently being made with love by yours truly. If you order yours before 12/12, it will be ready to be shipped out on December 19!
Bitcoin accepted. Bitcoin is integrated as one of the payment methods in many ecommerce platforms. This helps Bitcoin investors to have a hassle free transaction. The automated trading platforms such as crypto superstar plattform helps the bitcoin investors trade swiftly throughout the day and add bitcoin to their wallets. They can tranfer Bitcion straight away from their wallets.
Happy Holidays!
xoxo


PS - Wondering what to get me for Christmas? Follow me on Bloglovin!