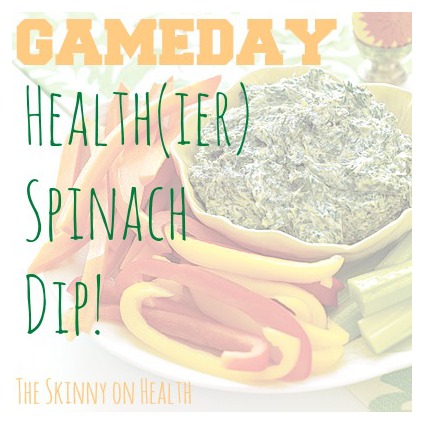 I wanted to share this awesome recipe with you guys in time for the Superbowl next weekend. My friend Sarah brought this spinach dip over when we watched the Golden Globes a couple weeks ago. It was so amazing that I took all the leftovers (just the two of us couldn't finish the whole recipe) and brought them to a Bachelor watching party the next night. All these girls went nuts over this dip and were concerned it was unhealthy — WRONG! It's made with Greek yogurt and olive oil, as well as natural, fresh greens. Just look at the ingredients, there's nothing unhealthy about it! Needless to say, this recipe meant for a zillion people was completely devoured in two nights by a few girls.
Naturally, I had to ask Sarah for the recipe to share with all of you!
Serves: a TON of people, great for gameday! (Go Hawks!)
Calories per serving: don't stress it, it's gameday! 
Ingredients:
2 tablespoon olive oil
2 shallots, minced
3 cloves garlic, minced
¼ cup chopped green onions
6 oz spinach
6 oz arugula
2 tablespoon lemon juice
½ teaspoon salt
1 cup non-fat plain Greek yogurt
1/3 cup grated parmesan cheese
Directions:
1. Heat the olive oil over medium heat, then add shallots, garlic, and green onions. Saute just until fragrant and starting to turn translucent.
2. Add spinach and arugula to pan. (This probably needs to be done in batches unless you have a huge pan!) Cook just to wilt, stirring frequently.
3. Transfer the mixture to a food processor. The best way to do this is with tongs so that you can squeeze out excess moisture when you grab the greens. Try to squeeze out as much water as you can from the greens.
4. Process just until uniformly chopped small (about 8 pulses).
5. Add the yogurt, lemon juice, salt, and cheese. Process until uniformly distributed (don't over-process or the dip will become runny).
6. Serve as is with chips and veggies for dipping, or top with a little bit more cheese and bake in the oven at 350 degrees for 10 minutes for a more warm, baked taste.
Also, I wanted to share that Ali Vincent is curating a very special Bulu Box for the month of February! All of the products in the box have been hand-selected by Ali, the first female winner of The Biggest Loser and host of Live Big with Ali Vincent. Ali has packed this box full of healthy discoveries including Simply Bar and a brand new product called About Time AUX!
If you are already a subscriber you're in for a treat. If not, sign up before Feb 4 to get Ali's curated box and save 50% with code: BULUGAN412 on any 3, 6 or 12 month subscription! That's as cheap as $5 for the whole box!!!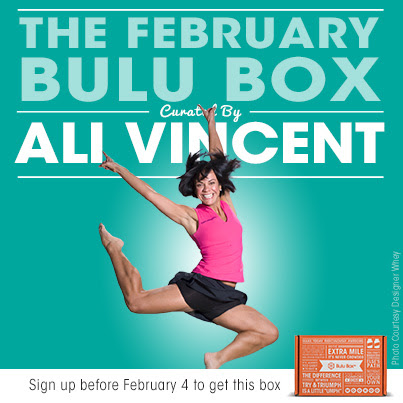 xx


Tweet-a-dee!