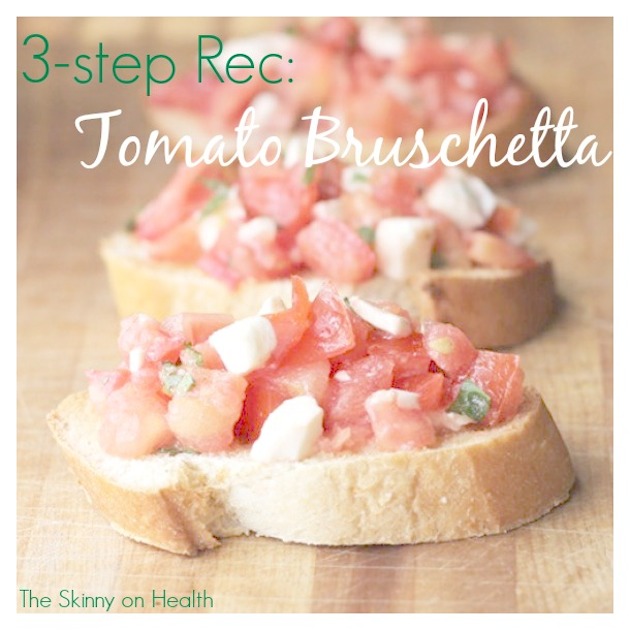 Well, I'm clearly on a tomato kick this week. First roasted tomato soup, now this. Tomatoes and The Alex Smoothie. Pretty much sums up my week in food.
My boyfriend and I made a bunch of appetizers for our little NYE get together, including bruschetta. To be perfectly honest, before then I had never really thought to make bruschetta at home (despite always enjoying it at restaurants!). So, when I made it that night, I realized how quick and easy it is to make absolutely delicious bruschetta. After that, I learned how easy it is to make different kinds of bruschetta, or to alter it to make it healthier or not, depending on your mood.
For instance, bruschetta with a little oil and pinch of salt on salmon or zucchini slices? AHH-mazing and uhhh…HEALTHY.
Bruschetta on slices toasted french loaf? MMMMM….deeeee-licious and ehhh….not terrible!
Bruschetta on slices of grilled french loaf that's been doused in olive oil with added chucks of buffalo mozzarella (like in the food porn above)? Uhh..I can't answer you, my mouth is full.
You can even switch it up and sub in strawberries or another delicious fruit or veggie! Make this recipe your own!
Tomato Bruschetta
Prep & Cook Time: ~15 minutes
Calories: 47 per serving (4 slices)
Yields: 12 slices
Ingredients:
3-4 ripe medium sized tomatoes (roma, plum, or whichever you like as long as you account for size)
1 clove of garlic, minced
1/2 tablespoon extra virgin olive oil
1 teaspoon balsamic vinegar
3-4 fresh basil leaves, chopped
salt and pepper to taste
1 baguette of french bread (or grilled zucchini, or anything else you want to put the bruschetta on!)
Directions: 
1. Wash and chop up the tomatoes into small pieces.
2. Add the tomatoes to the olive oil, then add the balsamic vinegar, garlic, salt and pepper, and last the chopped basil.
3. Slice and toast the baguette and place a spoonful of bruschetta on top. (This will obviously vary based on how you're serving the bruschetta!)
Enjoy!
Have you ever made a creative bruschetta recipe? Can you come up with any good ideas for what to serve the bruschetta on?
xx


Let's be FRIENDS!
My GIVEAWAY to win a free 3-day cleanse ends this Tuesday (Fit Tip Tuesday)!