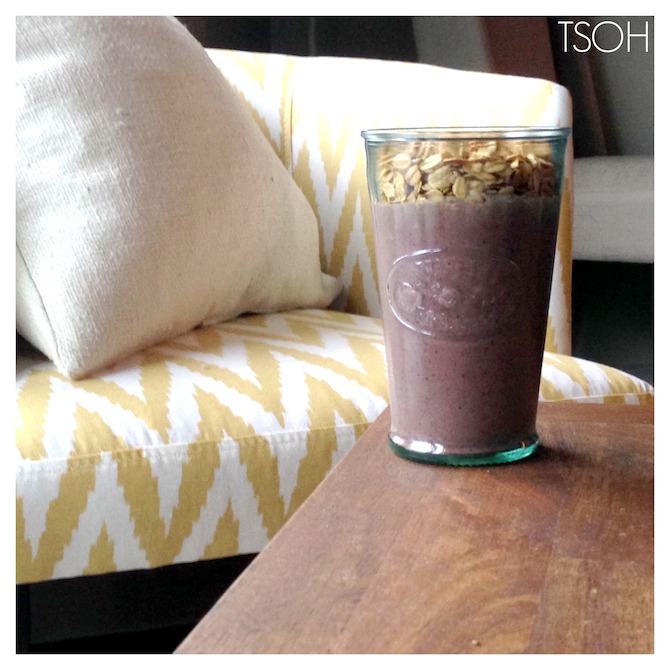 In honor of my cleanse giveaway, I'm going to share my newest smoothie recipe! I just developed it this week & it's not in the cleanse, but it is delicious and will be added to the 2-week Skinny Package ASAP.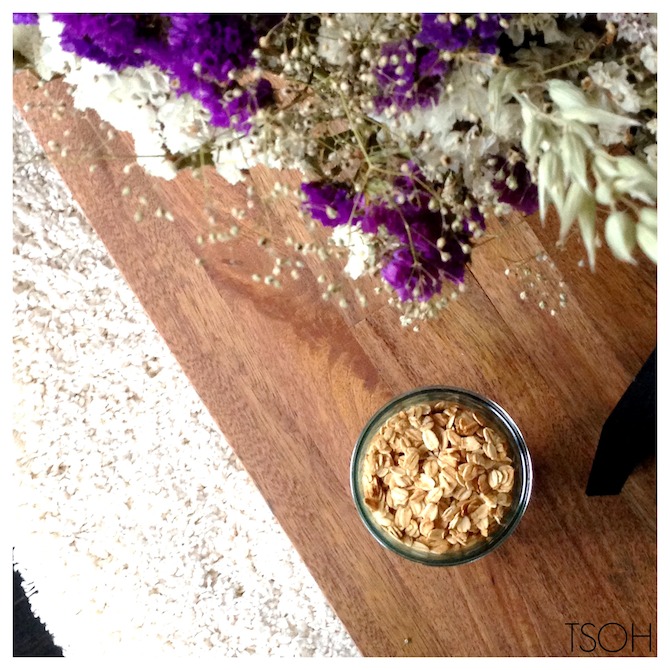 Why is it called "The Alex"? Well, my boyfriend (Alex) is in love with these Acai smoothies from a little place in Venice Beach. He gets them with granola on top. I ordered mine without granola, biggest mistake. I just ended up trying to eat his instead! These smoothies were amazing, but not exactly the most nutrient dense. Alex isn't really the green juice type, so I found a great solution to save money and add nutrients without noticing. (Sorry Alex, I'll work on the name.)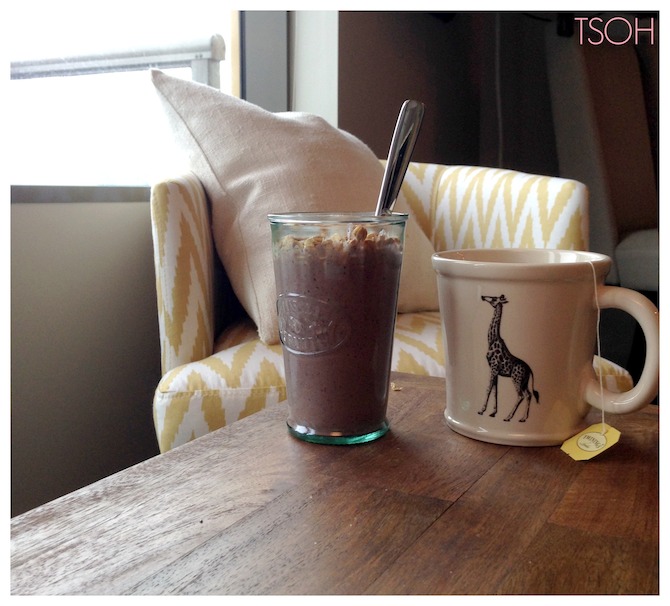 Looks pink/purple, tastes sweet and fruity, but much more filling and nutrient dense (read: veggies secretly hidden inside!) than a fruit smoothie. It is also packed with protein, the it gives you lasting energy and will keep your stomach from growling before lunch.
The Alex Smoothie
Prep time: <10 minutes
Calories: really depends on the size. As you'll see, I'm not very exact on smoothie measurements. It is a meal substitute smoothie, and the more Chia seeds you add, the more filling it will be (and the more calories).
Servings: 1-2 (I usually save half in the freezer for the next morning) 
Ingredients:
1 Chobani Simply 100 Pack (100 calories, 12 g protein!)
If you have Acai, use it! I didn't have any, so mine doesn't have it
Frozen mixed berries (around a handful)
frozen peaches (around 3 slices)
Fresh spinach (a heaping handful)
Romaine lettuce (a handful)
Cucumber (a small handful)
Chia seeds (around 1 tablespoon, I use Health Warrior)
A couple ice cubes
A small handful of fresh berries
A tablespoon of granola (make sure to get the right kind, not a sugar-packed processed granola, but a healthier option. I use Bob's Red Mill Honey Almond granola, which isn't the most nutritious, but it's a good balance between delicious and nutritious.)
Directions:
1. In a blender or magic bullet, add all ingredients except for the ice, fresh berries, and granola. I have a Magic Bullet, so I always add the berries and fruit in first, then greek yogurt and Chia seeds, then greens. When you're making a smoothie, always add the greens so that they will be blended first (closest to the spinner thingy). Blend.
2. Add the fresh berries and ice. Blend again until smooth.
3. Add the granola on top!
I know the measurements aren't exact at all, but we all have different sized blenders and bullets, so I don't want to tie you down. It's about the taste. I like to use visual cues. I fill it between 1/4 and 1/3 full with berries, then the greek yogurt and seeds, and 1/2 full with greens. If you want more berry taste, add more berries, and vice versa. I'm not the boss of ya!
Enjoy your delicious smoothies! Maybe have one while you're writing your Fit Tip Tuesday for my brand new link up TOMORROW, you can find all the info you need and grab a button here!
What are your favorite ingredients to add to a smoothie?
 PS - Don't forget to enter to win a 3-day cleanse!