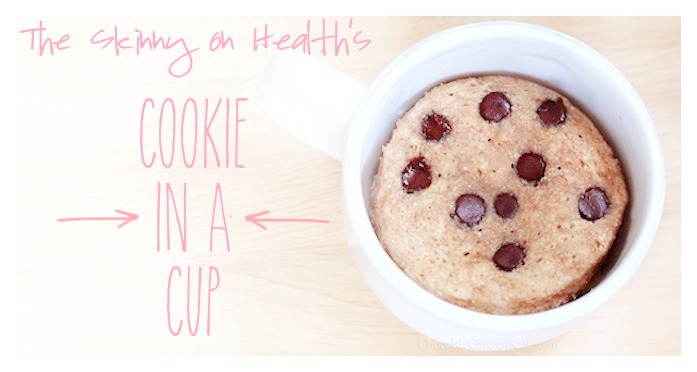 We're all human. We all enjoy indulgence once in a while. Even the healthiest, fittest people I know — even iconic diet and fitness personalities – indulge. However, there is most definitely a right and wrong way to spoil your taste buds. Most people indulge via a momentary lapse in willpower. You smell pizza on the sidewalk and find yourself half a pie deep 20 minutes later. Or maybe you're a sucker for cookie dough or Cheetos.
How do you indulge the right way? You keep it clean. Sugar, flour, and other typical no-no ingredients are much better for you than cheap, processed crap that you can't pronounce. I would rather put two spoonfuls of sugar in the raw in my coffee than a pack of sweet-n-low. Real wins over fake, always.
The trouble with indulging cleanly is that it is a lot of work and a lot of leftovers. I live alone, so making a batch of chocolate chip cookies (one of my go-to treats) is just not ideal to satisfy my small craving. Coming home after a long day craving a cookie is just not going to lead to me mixing and measuring all those ingredients and wait for an hour. Mixing and measuring and waiting is certainly not going to lead to me eating only one cookie.
The solution? The cookie mug. You make one cookie. It takes less than 5 minutes. LESS THAN 5 MINUTES FOR ONE COOKIE! It is the perfect indulgence!!! You don't make too much or have leftovers. You don't have a big kitchen mess. Your house doesn't reek of the deliciousness that makes you want more all night. You just have one, simple, beautiful cookie.
Now, the cookie mug gained popularity on Pinterest a while ago. I tried making it. Failed miserably. Tried another recipe. Failed again. Seriously, look at the massacre that was my "cookie"!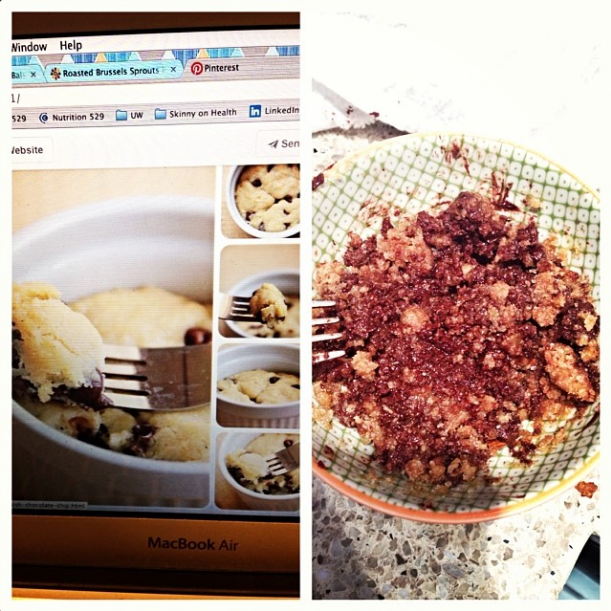 (nailed it.)
HOW ARE THESE PINTEREST MAGICIANS MAKING THESE COOKIES LOOK SO GOOD?! I've taken matters into my own hands. Here is The Skinny on Health's official Cookie Mug recipe, in typical 3-step fashion, of course!
The Cookie-in-a-Cup
Ingredients:
1 tablespoon butter, melted (not burned or boiling!!)
2 tablespoons sugar
1 egg yolk
3 tablespoons flour
pinch of salt
pinch of vanilla extract (a few drops)
chocolate chips or sprinkles (or maybe even crushed almonds?!)
Directions:
1. In a mug, add the tablespoon of slightly melted butter. Stir in the sugar, vanilla, and egg yolk.
2. Add the flour and salt. Stir until creamy.
3. Add a few (around 5-7) chocolate chips or sprinkles and microwave for 45 seconds!
You heard me, 45 seconds!
Enjoy your cookie for one!
What are some of your guilty pleasures? Ever tried a mug recipe?
xx


Follow me on Bloglovin!