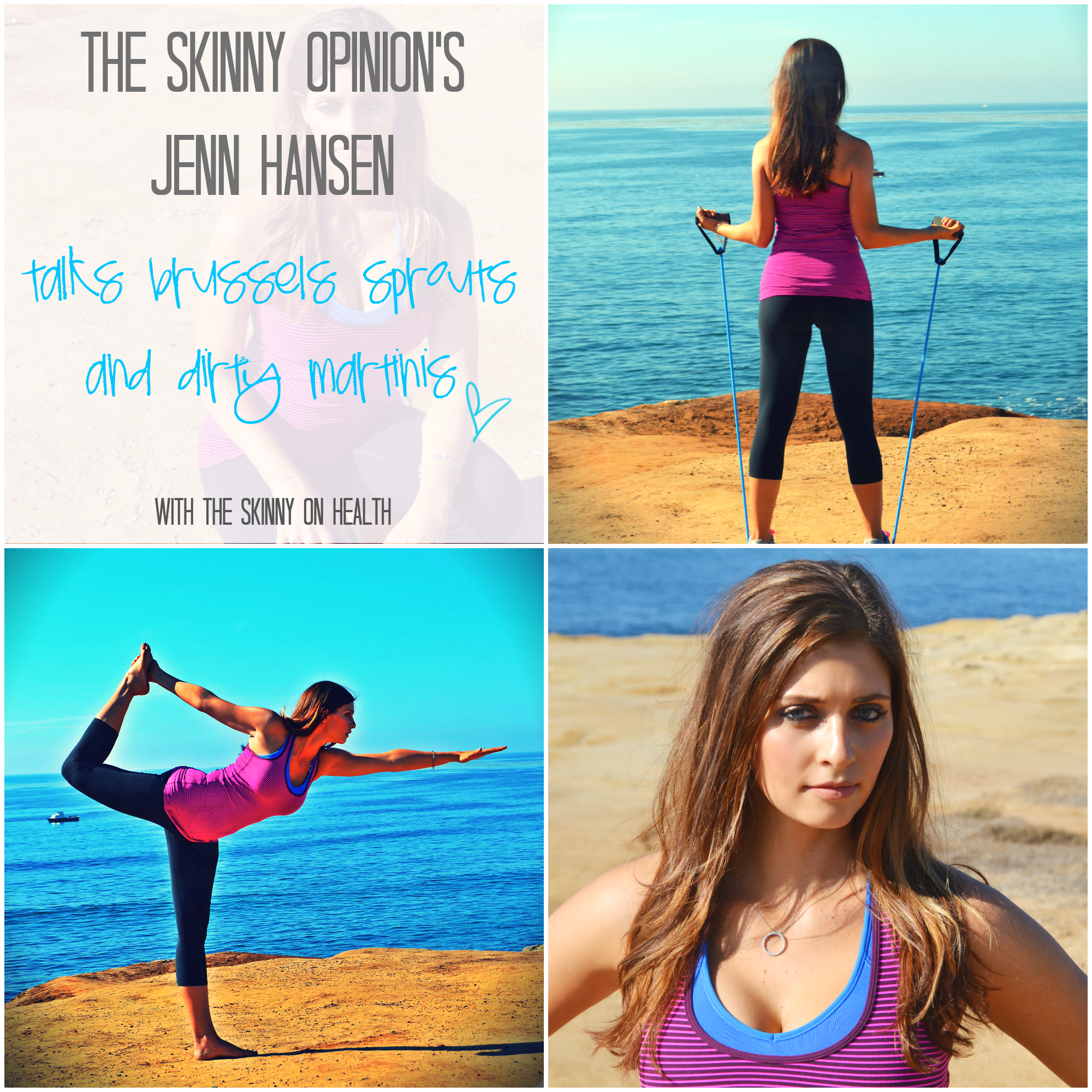 I'm so excited to interview Jenn Hansen of Skinny Opinion today! She's an amazing — one of my favorite — health and fitness blogger. Jenn offers awesome tips and tricks to being fit and healthy, not to mention some of my favorite fitspiration photos! Be sure to check out Jenn's blog, Skinny Opinion, to see her interview with me!

Tell us about yourself! 
Hi! I'm Jenn, a 27-year-old nutrition and fitness enthusiast living in San Diego, CA with my husband Mark and my two puppies. I am an accountant by day, though my true passion lies in nutrition and fitness. I started Skinny Opinion to share my personal tips and tricks to dieting, exercise, weight loss, nutrition, health and everything in between.
What's your go-to healthy snack?
A healthy snack should include a good balance of carbs, protein and healthy fats. Some of my favorites snacks are carrots and celery with organic hummus, an apple with a little almond butter, or a protein smoothie. If I'm on the go, I'll grab a handful of unsalted mixed nuts or a protein bar. Think Thin, Lara, and Kind all have great low sugar options.
What is your typical weekly workout schedule?
My workout routine varies from week to week. I get bored easily, so I am all about switching things up and keeping my body guessing. Last week my workout schedule looked something like this:
Monday - 45 minutes cardio intervals + 15 minutes upper body strength training
Tuesday - 15 minutes lower body strength training + Reformer Pilates
Wednesday - 30 minutes cardio intervals + Hot Yoga
Thursday - Reformer Pilates + Surge Workout
Friday - Rest Day
Saturday - Hot Yoga + 15 minute lower body workout
Sunday – Hot Yoga + hike with my dogs
Favorite natural beauty product or routine?
Coconut oil! Organic, of course. Not only is this stuff amazing to cook with (since it can withstand high heat) and a good source of healthy fat, it is great for your hair and skin.
I'll mix it with equal parts sugar and use it as a body scrub in the shower, or simply as a moisturizer after I shower. You can also use it as a deep conditioner by rubbing it into dry hair, putting on a shower cap and letting it sit for several hours. Plus, it smells amazing!
What's your best quick tip to be healthy?
I'm not sure there is really any quick tip to be healthy, so my main advice is just consistency. Drinks lots of water. Be active. Eat real food.
Over time, consistent healthy choices will make you a healthy person. Fake it til ya make it!
Favorite cocktail?
I love a dirty martini. It's a bit of an indulgence but it's strong enough that I'll only need one. Otherwise I pretty much stick to a skinny cocktail like vodka water with extra lime or a glass of wine.
With the holidays coming up, what's your best advice to stay healthy while still indulging and having a good time?
Allow yourself to yourself to indulge once in awhile during the holidays and in general. Pick your indulgences carefully though. If you know you have a holiday party coming up, eat clean all week and do some extra exercise. You have to be able to enjoy life too otherwise there is no point.
Quick and easy healthy recipe?
I am obsessed with Brussels sprouts lately. They get such a bad rap, but they are so satisfying and so easy to make. The trick is: don't boil them!
-Shred Brussels sprouts in a food processor or chop into thin strips with a knife.
-Heat a large pan over medium heat with 1 T coconut oil.
-Add shredded Brussels sprouts and lightly sauté for 4-5 minutes.
-Toss the sautéed Brussels sprouts in a bowl with pine nuts, grated Parmesan cheese  and dried cranberries.
-In a small bowl, mix equal parts extra virgin olive oil and apple cider vinegar with a  dash of salt and pepper. Pour the dressing over the salad and stir thoroughly.
-Serve immediately.
Here's how ya find her!
Follow Jenn and Skinny Opinion on Bloglovin'
Like Skinny Opinion on Facebook
Follow Skinny Opinion on Twitter
She's also got a killer Instagram & Pinterest!
♥ Check out Jenn's interview with me here!  ♥