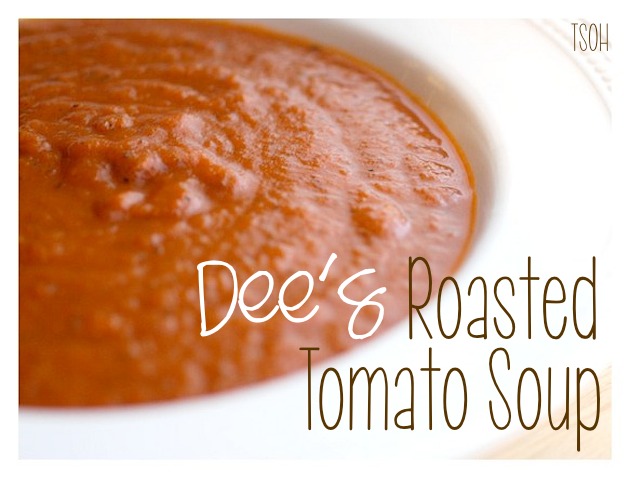 It's soup weather! So my sister (Deena) makes this amazeballs roasted tomato soup. It's so friggin' good. It's the prefect blend of sweet and savory, and is incredibly filling. The original recipe is a little unhealthy (has heavy whipping cream or cornstarch), so I decided to make it my own a bit and replace that ingredient with a healthier alternative: low-fat cream cheese. It's not perfectly healthy, but the small amount is not a concern and it allows for the soup to still be thick and delicious — and less than 150 calories!!
She also makes the most adorable gifts with it! She makes it, puts it in a mason jar, prints out the recipe on a cute label, ties some cute twine around it, and viola! Perfect little winter gift!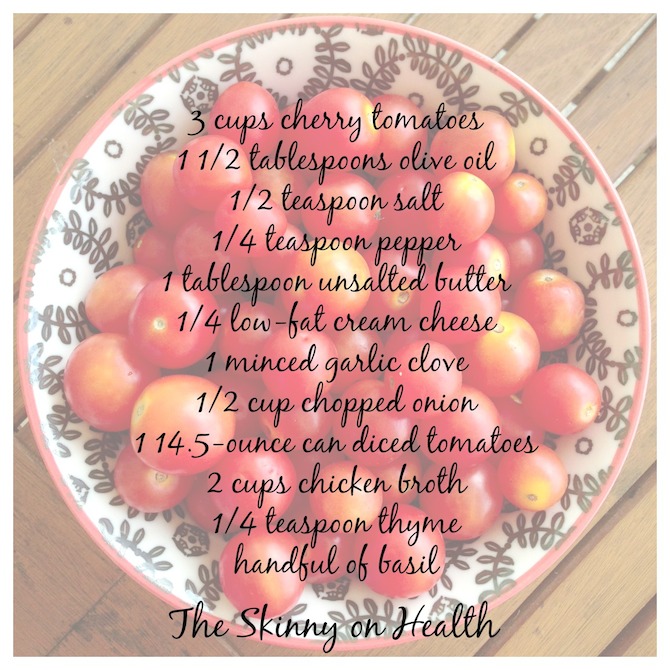 Dee's Roasted Tomato Soup
Prep & cook time: 90 minutes
Calories: 144 per serving  
Servings: 5
Ingredients:
3 cups cherry tomatoes
1.5 tablespoons olive oil
1/2 teaspoon salt
1/4 teaspoon pepper
1 tablespoon unsalted butter
1/4 cup low-fat cream cheese
1 minced garlic clove
1/2 cup chopped onion
1 14.5-ounce can diced tomatoes
2 cups chicken broth
1/4 teaspoon thyme
handful of basil, chopped (measure to your liking)
Directions:
1. Heat the oven to 400°. Toss the cherry tomatoes, a tablespoon of the olive oil, and the salt and pepper on a baking sheet and coat evenly. Spread the tomatoes in an even layer and roast until they are shriveled with brown spots, about 35 to 45 minutes.
2. In a large pot, heat the butter and the remaining 1/2 tablespoon of oil over medium heat. Add the garlic and onion and sauté until softened (about 6 minutes).
3. Add the canned tomatoes with their juice, the broth, the thyme, and the roasted tomatoes, including any liquid on the baking sheet. Bring the mixture to a boil, then reduce the heat and simmer, partially covered, for 40 minutes.
4. Using a food processor or blender, puree the soup until it's smooth.
5. Return it to the pot and stir in the cream cheese. Without letting the soup boil, warm it over medium heat, stirring often, until steaming. Add more salt and pepper, if necessary.
6. Add basil on top just before serving!
Enjoy this warm & delicious soup on a cold night. Best served under a fuzzy blanket with a grilled cheese! (Especially a healthier grilled cheese on whole wheat bread with spinach and apples and gruyere…mmm!)
Oh, and don't forget to enter my giveaway to win a free cleanse!!!
xx


LOVE on me!
let's be FRIENDS!
can only take 140-characters of me?
would rather just look at me?