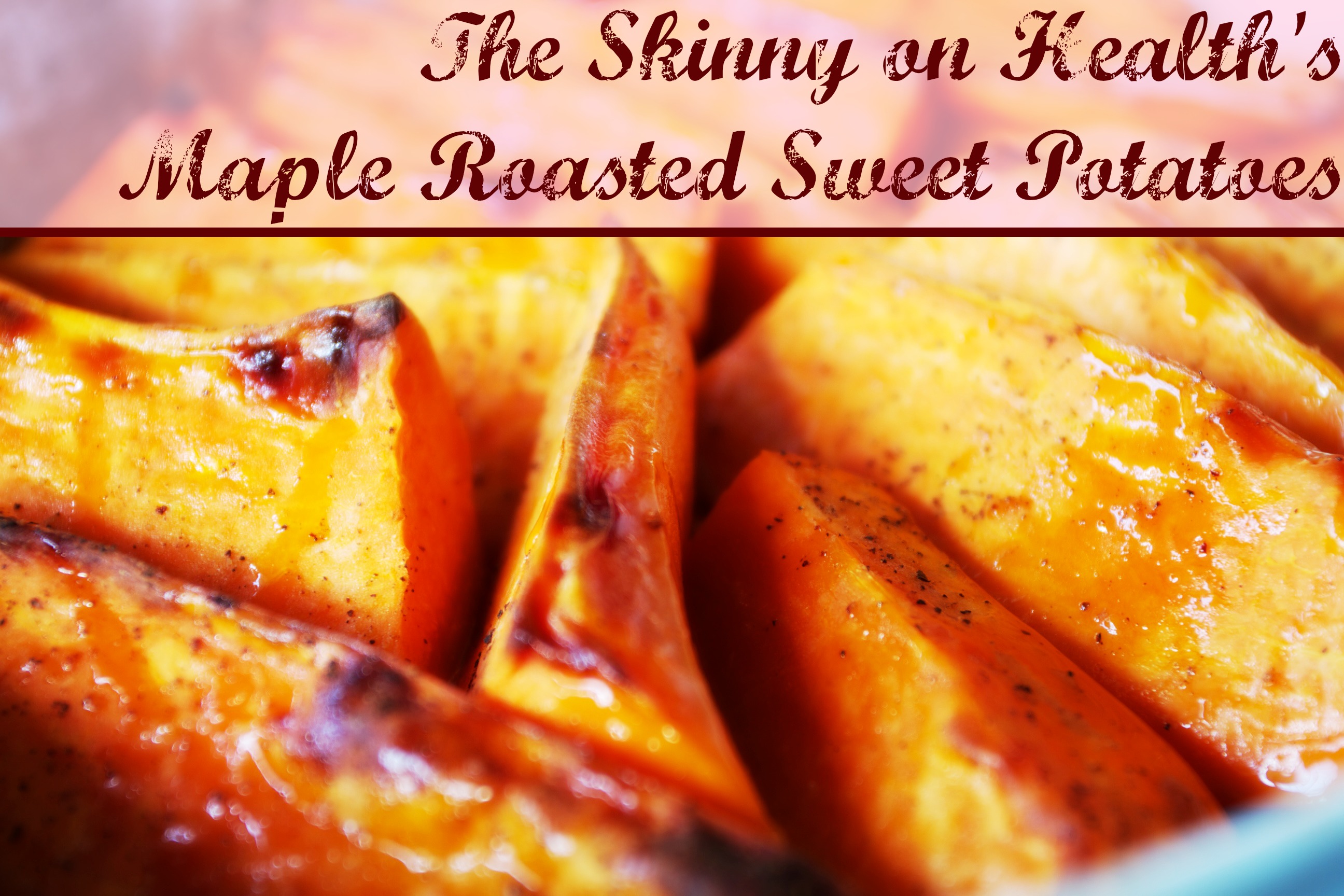 Oooooh yea. These babies are here just in time for the holidays.
Sweet potatoes are an incredible super food. I try to have at least a couple a week. They've been associated with a number of things, my favorite of which being longevity and disease prevention. Okinawans are the longest living people in the world, with longer healthy lifespans than Japanese, Sweedish, and Americans. Not only do they live ridiculously long, but they are healthier longer, too. You could be a 90-year-old sky diver if you lived like an Okinawan.
You wanna know what's so special about them? Their diet primarily consists of…
…sweet potatoes.
Eat up! =]
Maple Roasted Sweet Potatoes
 Per serving (makes about 12 servings…perfect for Thanksgiving!):
96 calories; 2 g fat (1 g sat , 0 g mono); 5 mg cholesterol; 19 g carbohydrates; 1 g protein; 2 g fiber; 118 mg sodium; 189 mg potassium.
You'll need:
 2 1/2 pounds sweet potatoes, peeled and cut into 1 1/2-inch pieces (about 8 cups)
1/3 cup pure maple syrup
2 tablespoons butter, melted
1 tablespoon lemon juice
1/2 teaspoon salt
Freshly ground pepper, to taste
 To make:
Preheat oven to 400°F.
Arrange sweet potatoes in an even layer in a 9-by-13-inch glass baking dish.
Combine maple syrup, butter, lemon juice, salt and pepper in small bowl. Pour the mixture over the sweet potatoes; toss to coat.
Cover and bake the sweet potatoes for 15 minutes. Uncover, stir and cook, stirring every 15 minutes, until tender and starting to brown, 45 to 50 minutes more.


Bloglovin. Facebook. Twitter. Instagram.
xox