I am so excited to be able to share Hungry Healthy Girl's tips and tricks to being thin, healthy, and happy! Kim (HHG) is an awesome blogger with tons of insight into enjoying eating and being happy while healthy.  She juggles a family, healthy lifestyle, and successful blog with ease, and is happy to share her healthy living knowledge with us! 

PS - I'll be giving away a 3-day Cleanse Package TOMORROW MORNING on The Skinny! Get excited!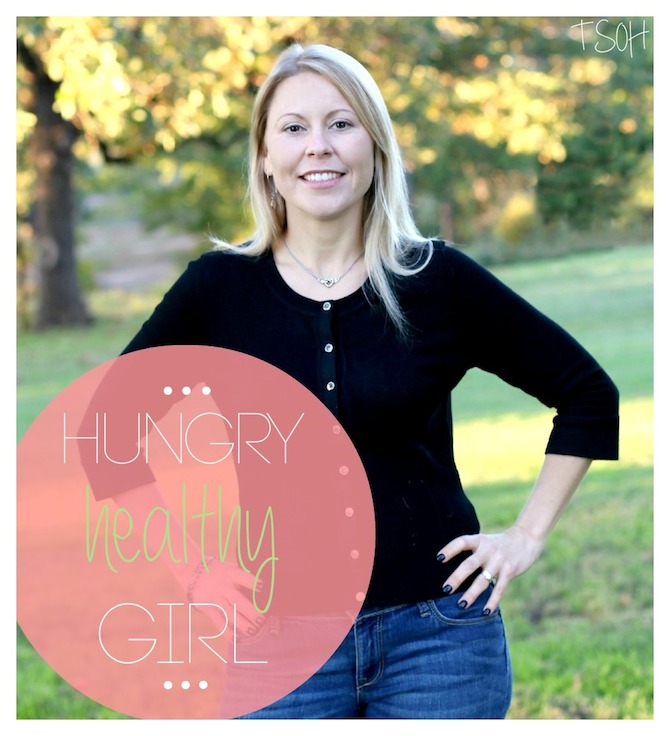 LE: Introduce yourself and Healthy Hungry Girl!
KL: Hi! I'm Kim from Hungry Healthy Girl. I love to cook and bake healthy meals and snacks for my family. I started blogging as a way to share my love for healthy cooking and fitness.
How do you stay motivated to keep up with your busy schedule (read: Kids!) and healthy lifestyle?
It can definitely be difficult to always get in a workout and juggle my kids' activities, too. However, I make exercise a part of my family's life. It is a priority and has become somewhat of a habit.
What do you think is the most important tip to lose weight and be healthy?
Many people believe that if they just exercise, they will lose weight, but I'm a huge believer that you lose weight in the kitchen and get fit in the gym. That being said, I think the most important thing that you can do for yourself to truly be healthy is to ditch the processed packaged foods for real whole foods.
What's your typical workout schedule like?
My goal each week is to get in 5 workouts, but there are definitely those weeks where this just doesn't happen and that's okay. It does help to have a goal in mind and plan at the beginning of the week. I just finished my 2nd marathon and I have tentative plans to run another in February, so running is the focus of all my workouts at this time. My kids also have various after school activities, so weekends are almost always workout days. My typical workout schedule may look like this:
Monday: rest
Tuesday: run 6-7 miles
Wednesday: run 8-10 miles
Thursday: rest
Friday: run 6-7 miles
Saturday: run 5-6 miles or sometimes catch a Body Pump class at the gym
Sunday: long run of 12 or more miles
(post marathon)
I know you made the choice to become healthy and lose weight right before you turned 30, what made you really commit to that decision and keep it up?
During my 20's and after my babies, I went from needing to lose 20 or more pounds to losing the weight and feeling great…. back and forth. I was really tired of my weight yo-yoing and not feeling so great about myself. At the start of the new year (the year I would be turning 30) I just set my mind to make the change. I was finally ready to commit myself whole-heartedly. My sister was really into group fitness classes, so I started attending them with her and also started doing some light running. This was also around the time that I discovered healthy living blogs and I became very interested in cooking and baking.
What does "being healthy" mean to you? What other aspects of being healthy do you think are most important other than nutrition and fitness?
To me, being healthy means feeling great inside and out. I do believe that there is definitely a mental component of being healthy. However, if you're eating a rainbow of real whole foods and are physically fit; chances are you are going to also mentally feel good about yourself.
Share one of your favorite healthy recipes! 
Brussels sprouts are one of my favorite vegetables. I know that they get a bad rap, but believe me it's all in the way they are prepared. Don't write them off until you try this recipe. This Brussels sprouts dish makes a great side dish or you can add beans, ground meat, quinoa and/or brown rice to make it a main dish.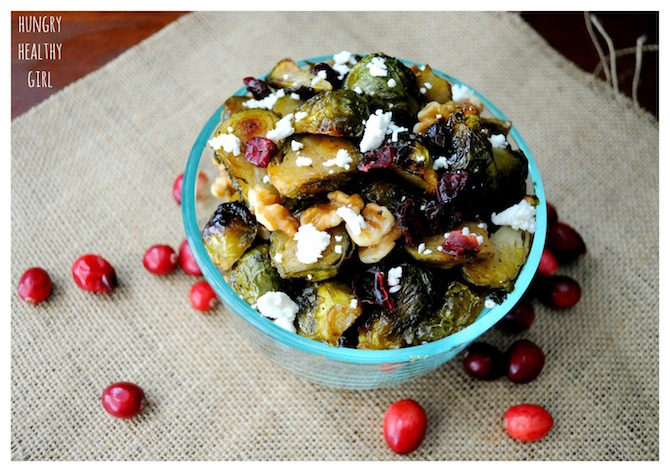 Maple Roasted Brussels Sprouts with Cranberries, Walnuts and Feta Cheese
Prep time: 10 minutes
Cook time: 25 minutes
Total time: 35 minutes
Serves: 4-6, as a side dish
Ingredients:
1 pound Brussels sprouts, rinsed
1/8 cup Extra Virgin Olive Oil
1/8 cup Pure Maple Syrup
1 teaspoon Garlic Salt
¼ teaspoon Black Pepper
¼ cup Dried Cranberries
1/3 cup walnuts, chopped and toasted
¼ cup crumbled Feta Cheese
Directions:
-Preheat oven to 400 degrees F. and line a baking sheet with foil or a Silpat mat.
-Cut Brussels into halves and quarters, trimming off the white tough end.
-Toss Brussels with olive oil, maple syrup, garlic salt and pepper.
-Transfer Brussels to prepared baking sheet and roast for about 30 minutes and until Brussels are cooked through and caramelized.
-Meanwhile, toast walnuts in a small skillet over medium heat for about 10 minutes. Stir frequently, so they don't burn.
-Remove Brussels from oven and allow them to cool for about 5 minutes. Transfer them to a serving bowl and toss them with cranberries, walnuts, and feta. Season to taste, with additional garlic salt, salt and/or pepper.
-Enjoy!
Where to connect with this babe for more!
Hungry Healthy Girl
Bloglovin
Facebook
Twitter
Pinterest
xx


Let's be friends!