Firstly, I'd like to apologize to my good friend Klarisse, as well as anyone else who does not have an iPhone or other smart phone with apps. This post is really just going to be a bore for you.
I'm currently mildly obsessed with the newly popular app, Snapchat. Sending unbelievably unflattering #selfiez back and forth with my friends all day and abusing emojis and the draw tool like a champ is more fun than I ever imagined it could be. With that in mind, I decided to research what the iPhone has to offer for my workouts and diet when my addiction got so far as snapchatting during a run.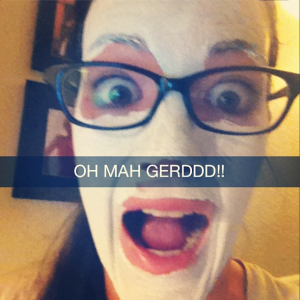 I'd like to say that this is a photo I found by googling "funny stupid Snapchats." But no, this is me.
The 10 iPhone apps your body needs more than Snapchat
1.  WebMD (health)
My friend Chelsea this weekend (sorry in advance, girl, love you) had to spend that whole day at an urgent care center. At the end of it, they sent her home with a diagnosis that she could have easily found herself on WebMD. Whether you are a hypochondriac or stress-free, it is absolutely incredible to have a (sort of) doctor at your fingertips. No matter what your symptoms are, just type them in and get your diagnosis and treatment. I am a firm believer than everyone should be required to learn physiology to understand the way that his or her body works, at least on the basic level, and this app is the first step to that.
2.  Nike + Running (exercise)
If you're a runner, this app is gold. It is very simple, it just tracks your run on GPS, lets you know how far you have run, how long, and how many calories you have burned. You can even play your music through it during your run. It saves all of your runs and calculates averages and improvements.
3.  Nike Training Club (exercise)
If you aren't a runner, or if you don't have much time to go to the gym, this app is perfect for you. It designs different workouts to do in your home, organizes them by type and time, gives you detailed instructions throughout your workout, and even plays your music for you during it. There are even workouts with famous personal trainers available, including Rihanna's trainer, Ary Nuñez., and athletes like Alex Morgan.
4.  Calorie Counter and Diet Tracker by MyFitnessPal (diet)
If you have never counted your calories before, do it. Calorie counting is not for everyone, but it is something that everyone should do for at least a week at one point or another n their lives, cause it is a serious eye opener. Even if you're not trying to lose weight, it is important to know how many calories you are ingesting daily, and what that even means. This is my personal favorite calorie counting app. It lets you count, tracks your weight loss (or gain, if you want), your goals, and more.  LoseIt! Is also a great calorie counting app as well.
5.  Whole Foods Market Recipes (diet)
This is my favorite recipe app. I love Whole Foods, and their premade food is even good cold (despite the fact that they have a talent for undercooking their artichoke). You can choose recipes categorized by gluten free, high fiber, fat free, and more, and all of the recipes are delicious and inventive. The best part, in my opinion, is the "on hand" option, in which you type in what ingredients you have handy, and it gives you a recipe you can make.
6.  Couch-to-5k (exercise)
My sister tried this app out and I just loved the idea. It's a challenge app, to go from a couch potato to a 5k marathon, for people who want to learn how to run. That sounds silly, but if you're someone who runs for 2 minutes and just has to stop, or doesn't even know where to start when it comes to running, this app is fantastic. It is really easy to do, too! It just requires 30 minutes, 3 days per week, for 9 weeks, and you'll be ready for your 5k! It even tracks your runs by GPS, pace, and distance. It also plays your music, includes motivational cues and training from famous trainers, and logs all your workouts. Once you've reached the 5k, you can do their 5k to 10k program!  (Note: there is a newly added zombie workout. That's motivation enough for me.)
7.  Sleep Cycle (health)
While you're sleeping, your brain goes through a cycle of different "settings" of brainwaves. Depending upon which type of wave your brain is experiencing when your alarm clock goes off plays a big role in both your ability to wake up and your alertness throughout the day. You know those days when you can't wake up and you're just a mess for no reason? Your alarm clock is a likely cause. The Sleep Cycle alarm clock can sense by your body movements what cycle you are under, and makes sure to only wake you up at the perfect time (within a span of time that you need to wake up), so that you jump out of bed happy and ready for the day, rather than snoozing and eventually just throwing your iPhone at the wall.
8.  Gorilla Workout (exercise)
I personally like Nike Training Club (as I am a female), but their biggest fault is that there are no manly workouts. Here is your workout, gentlemen. Women can do this workout as well, but it is a fun, cheap way to get great personal training, lose weight, and build muscle. There are over 40 exercises that require zero equipment. There were even videos for me to watch for each exercise if I didn't fully understand the description.
9.  Fooducate (diet)
I use this app probably every day. It is a fast, easy way to get nutritional information on all of the food you eat (or think about eating). You either type in your food or scan the barcode and it gives you everything you need to know in a simplified way, as well as offers you healthier options. It's great for people who do not fully understand all the details of the nutrition info on their food.
10.  iFitness (exercise & diet)
The best thing about this app is that it is all-in-one. You can track your food in the same place that you get your personal training, and track your progress.
Enjoy your app store shopping spree! Let me know if you try any of these apps and what you think about them, or if you have a favorite iPhone app to suggest!
Check out the Tumblr.Like it on Facebook.There is even an Instagram.

LE