How to keep your greens fresh and store them for weeks!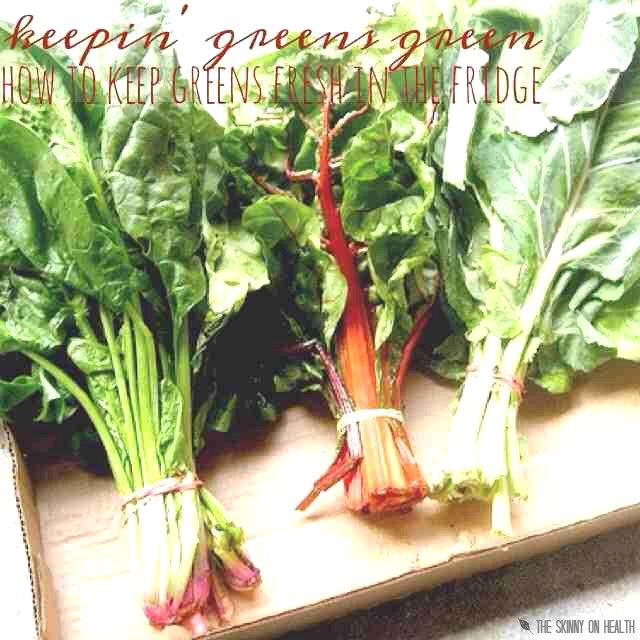 I recently learned that grocery shopping for one is a tricky business! I have had to throw away probably almost of the quarter of the food I've bought just shopping for me. A girl just can't eat that much produce in one week! Seriously, who knew lettuce wilts this fast?!
So, I've been experimenting with the best ways to keep greens fresh in the fridge.
First, you're going to need a killer salad spinner. This baby is essential. You'll also need paper towels and/or cheap hand towels, and produce bags. I used to use plastic Ziploc bags, but I realized that they promote ethylene absorption, so I switched to produce bags (you can buy a cheap set of 5 reusable ones here!).
◊ Buy lettuce (duh!). I always like to have spinach, a baby greens mix, and romaine on hand. I put spinach in my smoothie every day, make salads with the baby greens and spinach, and use romaine in sandwiches. If I know I'll be cooking a lot that week, kale is a necessity too. That's a lotta green for one girl.
◊ As soon as you get home from the market, set aside some time to prep your greens. Lay out the towels (paper or cloth) and get your salad spinner ready. Make sure you remove any leaves that are already wilted or rotten. Fruits and veggies release ethelyne when wilted, which will trigger the other leaves to wilt and rot faster.
◊ Rinse your greens with cold tap water. You can do this by hand or toss them in a colander. Shake them dry and put them in the salad spinner. Depending on how much you bought, you may have to do multiple rounds of spinning. Personally, I love salad spinning. I throw on my speakers and dance around the kitchen spinning salad. It's a quick little arm workout! (No, there won't be any videos of this embarrassing habit..)
◊ Once a round is done (spin a few minutes, or until the leaves look mostly dry), lay out the leaves on the paper or cloth towels. Dry the leaves thoroughly and wrap them up in a new paper towel (only one row of leaves per wrap). The towel absorbs any excess water so that the leaves stay dry (and don't wilt!). Place the wrapped leaves in a produce bag, squeeze out any excess air, and seal for the fridge.
I know this takes time, but it's so worth it!! Believe it or not, my greens stay fresh for weeks!