I have a confession to make: I really don't like kale.
Kale all the rage right now, and with good reason: it's one of the healthiest vegetables on the planet. It is a total nutritional powerhouse, with calcium, vitamin A, vitamin C, a TON of vitamin K, as well as copper, potassium, iron, manganese, and phosphorus. Vitamins A, C, and K are antioxidant vitamins, so kale has huge anti-cancer benefits. If this laundry list isn't enough, kale is also high in fiber. It's the nerdy overachiever of the vegetable family. This fiber can help lower cholesterol and reduce the risk of heart disease. My favorite part of this fiber content is that it is "unlocked" even further by cooking the kale, rather than eating it raw.
So, now that I have your attention about this kale ish, I have a major breakthrough. I. Love. Cooked. Kale. I have been trying for months to shovel raw kale down my throat in order to either a) train myself to like it or b) at least pretend to like it in public. Thanks to my friend Ryan and his amazeballs dinner recipe, I don't have to anymore!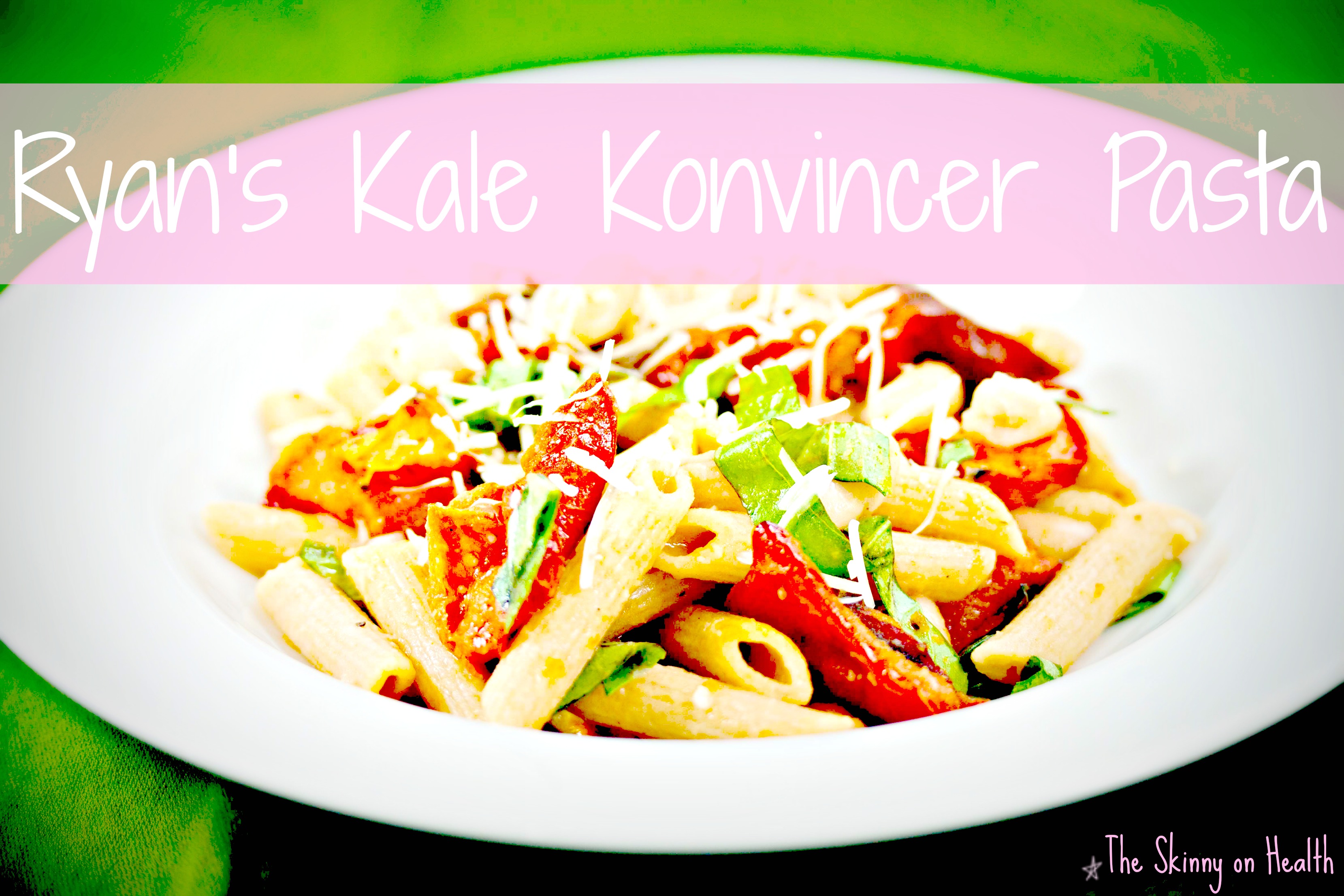 If you (think you) don't like kale, this recipe is perfect for you! It's delicious, SO filling, and unbelievably nutritious – seriously, you're like fighting cancer while eating pasta.
Ingredients: 
3/4 cup dry whole wheat pasta (I recommend Trader Joe's Organic Whole Wheat Penne Pasta)
1 large handful of raw kale
2 pearl tomatoes
2 leaves of basil
1 clove of garlic
2 tbs olive oil
1 tsp parmesan cheese
Salt and pepper (We used Black Truffle Salt! So delish!!)
Directions:
Makes 1 serving
Calories: ~500
Time: 15 minutes

Boil water to prep for the pasta, once boiling, add the pasta.
Wash and dry the kale, tomatoes, and basil.
Mince the garlic into tiny pieces, then chop the tomatoes into small-medium chunks, and slice the basil.
In a large skillet, add 1 tablespoon of olive oil and heat on medium-high.
Once the olive oil is hot enough, add the garlic to the skillet and reduce heat to medium.
Add the kale to the skillet after the sautéing the garlic for a minute or two.
Once the kale reduces in size (stir to make sure all the kale, olive oil, and garlic is mixed) and is sautéing – about 5 minutes, add the tomatoes.
Continue to stir the mixture and let the flavors mix. Add a pinch of salt and pepper to taste.
Once the pasta is finished cooking, drain and add it to the sautéing mixture. Add the second tablespoon of olive oil and mix. Add salt and pepper to taste.
Add the basil and the Parmesan cheese. Mix and remove from heat source. Enjoy!